PRO UTV SPRAYER 65G/D252/MANUAL
Item #:

5303228

Mfg #:

PROUTV65-GD-M
Product Description
The 5303228 PROUTV Series Gas Engine configuration from Ag Spray is a professional series 65 gallon sprayer designed for the bed of an UTV that is built to handle any job whether it's utility, municipality, rangeland or ag. The gas engine version is designed for the tailgate to be open on most models of UTV. The conveniently positioned swing control arm rotates next to UTV cab for easy sprayer control. The manual control arm has a spring loaded position detent to allow the operator to easily enter and exit the machine and stow the control arm when not in use. The steel base has fork lift pockets incorporated for convenient installation and removal. The poly tank is built with a molded-in tank baffle with sloped floor and a molded-in outlet fitting for easy and complete clean out. Equipped with a GX160 Honda engine coupled to an 252 Diaphragm Pump to provide reliable pressure that delivers plenty of volume and is rated up to 6.1 GPM and a max of 290 PSI. The pro series long range handgun with adjustable pattern tip distributes up to 38 feet of horizontal spray and up to 27 feet of vertical spray and comes with 25 feet of 3/8 inch hose. Hand wand spray pattern is controlled by how far the trigger is depressed which allows the operator to change between straight to wide fan pattern to meet your application needs. Combined with our 1 year warranty, AG SPRAY PROUTV Sprayers will deliver dependable use when you need it most.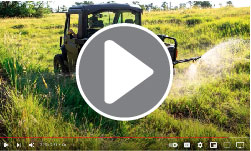 FEATURES
Fully drainable tank with molded in outlet fitting, no lip in the tank to hold back product
Tank baffle to limit sloshing for better handling
Lid gasket to prevent liquid leaking when going over rough terrain
Heavy skid with Fork Lift pockets for easy installation/removal
12 threaded inserts in each tube for additional accessory mounting
Manual control swing arm detent to hold in storage and also at 90 degrees to allow the operator to enter/exit the UTV and easily reach control arm
Boom options of traditional or boomless in 3 sections
Shutoff valve on handgun hose inlet

Prevents the hose from being charged with chemical until you want to use it
Eliminates the need to flush the handgun line when switching chemicals when you didn't charge the line and use the handgun
Prevents the handgun from being the shutoff and potentially leaking

Gas units designed for tailgate to be down with boom mounts attaching directly to the skid base
4 Ratchet Strap tie down slots on under side of tank retention tubes for secure installation
BOOM MOUNTING BRACKET and BOOM MUST BE ORDERED SEPARATELY.
(5282426) PRO UTV BOOM MOUNTING BRACKET KIT
Spray boom options include –
6 Row 21' Pro Boom w/QJD
8 Row 28' Pro Boom w/QJD
PX413 13' Manual Fold Boom w/QJD
PX416 16' Manual Fold Boom w/QJD
PX420 20' Manual Fold Boom w/QJD
PX423 23' Manual Fold Boom w/QJD
PX Boom Electric Fold Kit w/Control Box & 18' Harness (*Add To Above PX Boom)
Boomless 34' Coverage, 3.8 GPM At 40 PSI (3 Section)
Boomless 38' Coverage, 5.8 GPM At 40 PSI (3 Section)

An optional 50 feet hose reel with 180 degree swivel base can easily be added to any PROUTV Series Sprayer
Product Specs
Gallons

65

Product Type

ATV / Utility Sprayers